Article: Interview with Threaded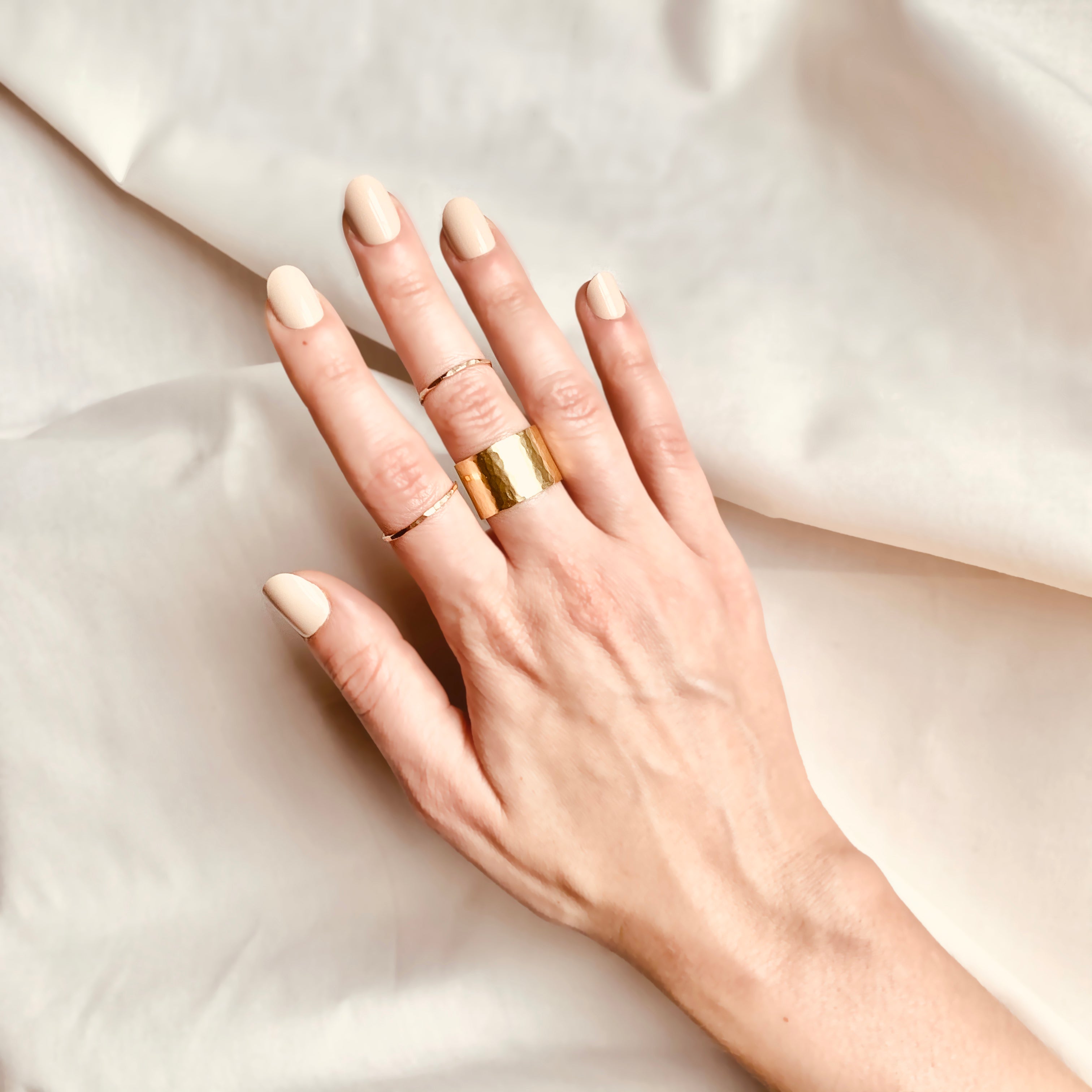 Interview with Threaded
Threaded is a community dedicated to creatives and visionaries who are leading a more sustainable future for fashion.
I was honored to be interviewed by Threaded and after reading my interview, I just had to share it here.
Here you go..........
Hi, Sara! We've loved seeing so many conscious, female-led businesses popping up in St. Louis. We can't wait to share your story! Can you start by telling us a little bit about yourself and how you came to the world of jewelry design? 
So grateful to have met you, and happy to share my story with you and your readers! 
Through my experiences and training I built a passion for modern design, sustainable design, the artistry, the process, the materials and the people behind them. I earned a degree in Architectural Studies and designed environments for people for several years before finding sustainable jewelry design.  
I designed interiors with a range of materials from concept to occupancy. Hair salons, restaurants, offices etc. What drew me to jewelry is that there are so many strong similarities with interior design. Understanding the end user, the intended use, color, fit, proportions, integrity of materials, and production process are all the same things you discover whether designing jewelry or interiors. 
When did you begin making jewelry? And what ultimately led you to start your own jewelry business?
I was working for an interior architecture firm, and decided to take a jewelry metalsmithing class at night for fun. I FELL IN LOVE MY FIRST CLASS! The act of making jewelry is quite meditative, and I really needed it at that time. The sounds around me, and my thoughts settle down. My focus draws into the simple act of transforming the materials. Watching friends and family love my jewelry was so rewarding. Knowing that it brightens a woman's day, it just kept me making more. My business developed quite organically.
I started by showing at local galleries and having my own booth at art fairs and holiday pop-ups. This led to building relationships with boutique shops, wholesalers and partnering with them.
When did you discover your place in the sustainability conversation? Was there a turning point or a-ha moment for you in your journey?
The turning point started when I began designing for other companies. After making and selling my own collection I slowly started designing for other brands and wholesalers, which led me to become a "fast fashion jewelry" designer. Yup, that was me! I travelled overseas to visit factories, review collections, source, design etc. This opened up my eyes to a more global view of how fashion jewelry is made and mass produced. A lot is hidden from the public. Well, unfortunately I came to discover that a lot (not all) of the jewelry metal and gem mining industry treats the earth and its people poorly. It's disappointing and unfair. In addition, plated jewelry doesn't last long, and eventually lives in a landfill.
Being exposed to this was tough, because I love the artistry, the material, the process. The nature of mass produced jewelry, often doesn't celebrate the maker or the material. Jewelry truly is a sculpture that tells the story of the maker, the material, the process and ultimately you. The women wearing jewelry should be proud of the piece and feel good about everything that went into it.
I was conflicted. I knew women wearing jewelry deserve better, but finding a solution seemed overwhelming. With a lot of internal questions, research, doubts and ah-ha moments realized, yes I could do it. I've started with a small collection using 100% post consumer recycled 14k gold, 14k gold filled, sterling silver and ethically sourced stones. I believe it is the most sustainable option for me, and as I grow I hope to include other sustainable jewelry options. 
How do you use your brand and store to talk about sustainability and values? 
My mission is to create a sustainable jewelry collection with care and kindness towards our environment and its people. A collection that is truly beautiful inside and out, for women who seek timeless ease and wish to make a difference.
 I notice it helps others when I open up the conversation for them to ask more questions about jewelry. I include them in my process, show them the recycled materials and ethical gemstones I choose in social media, blog and my newsletter.  By sharing my sustainable jewelry collection with this approach, I hope women can truly feel even more confident in jewelry with a purpose. 
This past year I held several Sara Patino Jewelry Making Workshops which has been so fun! I invite the public to come make a pair of recycled gold hammered hoop earrings with me. They are a modern minimal style that is easy to enjoy. They get to use the tools, learn the process and make a lovely pair to take home. It's been a great way to casually connect over food, wine and jewelry. They get a sense of how it feels to make your own pair of jewelry, which is the best feeling ever! Of course, everyone leaves with a huge smile. Once Covid is cleared, and all is safe, I look forward to doing more of these.
I tend to focus on the positive aspects of choosing sustainable jewelry. As someone who was a fast fashion jewelry designer for years, trust me, I'm not here to create guilt or insecurities with jewelry! What I want to cultivate is an open dialogue. There is so much to share and learn so we can understand our options and move forward making informed decisions. As they say...it's the collection of the choices we all make that helps our earth and its people. 
Sustainability, in the context of community and environment, is a foundational piece of how I am building my business.  In the near future as I grow my team, I hope to bring in people with the same values and build a culture that continues to use this lens in its decision making. To me this means operating with integrity, transparency in our processes, materials, the way we support ourselves, our community and environment. For me, when I look at decisions with this lens, it's about caring deeply and making progress.
You mentioned your work being inspired by your travels, both personal and professional. What did you experience that influenced you? How does this, if at all, play a role in your creation, techniques, or design?
My parents are from Colombia, South America, but moved to the states right before I was born. I grew up in St. Louis, Missouri so in the summer we would travel to visit our other "home" since all of my family was back in Colombia. Traveling, growing up bi-cultural, speaking fluent Spanish, staying in the remote ultra-green farm country of central Colombia was my normal. It planted an appreciation for nature, other cultures and love of travel.
When summer break ended I'd come back to St. Louis, MO with my handmade purses, baskets and clay jewelry I'd buy from artisans. Watching them make their art with so much passion and pride left an impression on me. Seeing art come to life was inspiring. It reminds me that the process is important, it should feel good. 
When I start designing and something feels off or too forced, I take it as a sign to not pursue it. I just want good energy in each piece!
So growing up this way taught me about the art and design we enjoy; it comes from the earth and is made with intention by actual people. My fascination with art and design has always been inside of me, but I think my early travels shaped my journey of becoming the designer I am today.
What do you wish more people were more aware of when it comes to the issues in the jewelry industry, what would you want to talk more about? What is your brand tackling as a part of your mission?
You simply don't know what you don't know about jewelry! I understand this because I've been there and didn't fully understand until I worked in the industry and had first hand experiences. That's why I want to be transparent in my brand in order to help others in their conscious consumer lifestyle.
There is a huge opportunity for jewelry companies to open up and share more about how they produce their jewelry. Large companies in various industries are making pledges to be more sustainable, go carbon neutral, etc.,  so we are seeing shifts in communication. It's promising, but this means we all need to educate ourselves even more as these terms "sustainability" "eco friendly" "slow" get used in different ways.
What resources or topics would you share with someone just starting out on their personal journey to shopping ethically or sustainably when it comes to jewelry?
For starters I would seek to find out 5 things:
How long will this piece last? (can it be upcycled, recycled?)
Where was it made?
Who made it?
How was it made? 
What is it made of?
There are so many parts to jewelry that it would be unrealistic to expect one part done sustainably would make the entire piece good. If you can try to get as many answers that are supportive to the environment and its people, you are off to a great start. It's a process, and the more you know the more comfortable you will be in your search and the easier it will get.
Threaded was built on the idea that Midwest is more than a flyover when it comes to a conscious approach to fashion. There are so many creators, artists, designers, and visionaries right here doing incredible work and living their values. What do you wish more people knew about the Midwest and what do you love most about living and working in St Louis? 
I am first generation Colombian American but St. Louis is my home! My community has my biggest fans that keep me motivated to do more. There are so many kind, creative people here that keep me inspired and connected. I have friends that are Incredible photographers, painters, fashion designers, graphic designers etc. that love being a part of the St. Louis creative culture. We truly support each other!
As someone who has worked for both large companies and now yourself, do you have any words of wisdom to all the creatives out there hoping to start a sustainable brand or business?
The world needs your gift! Deeply believe in it everyday and take smart steps to share that gift.
What are your thoughts on how we as individuals can shift the jewelry industry to one we can all be proud to be a part of? 
So much has changed since I first started making jewelry 13 years ago. Consumer behavior in general is becoming more environmentally and socially conscious. Continue to gather information from reputable sources and take time to educate yourself. The more awareness we have, and information we require, the more information brands will be compelled to provide. 
What is next for your brand? How can we support you and your work?
If you like what you've read so far, I'd love for you to connect with me, @sarapatinojewelry on Instagram, Facebook, Pinterest. I want to know your thoughts and continue the conversation. 
I'll be releasing more styles in the Fall. I enjoy including my community in the process, so I send questionnaires in my newsletter, and polls in facebook and instagram so I get closer to my clients needs. I have some beautiful pieces coming up as well as fine jewelry so stay tuned.
Feel free to read my journal or sign up on my newsletter at the bottom of my website www.sarapatinojewelry.com. I share more behind the scenes, classes, new designs and more.